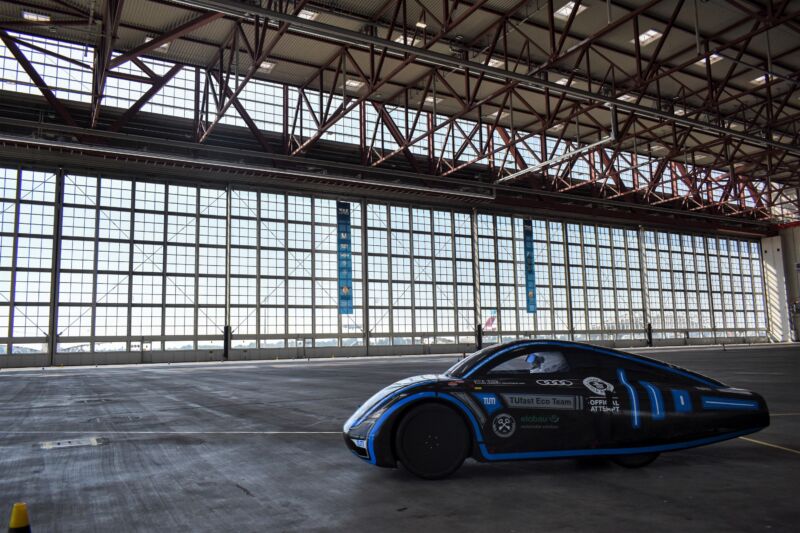 It must be the season for student-set world records. Earlier this week, we learned that a Swiss team of student engineers set a new world record for the fastest electric vehicle 0–62 mph (0–100 km/h) time. Today's story features another EV designed and built by students, this time from the Technical University of Munich, and they took a lot longer to set the record.
The car, called muc22, looks more conventional than the Swiss speedster, if only a little. The diminutive coupe in this case was built for efficiency, and in a six-day test at Munich airport, it set a new distance record on a single charge (for a non-solar EV): 1,599 miles (2,574 km), with less battery capacity than many plug-in hybrids—just 15.5 kWh.
The specs for muc22 are extreme, but they're on the far other side of the scale compared to something like a Pininfarina Battista hypercar. For one thing, the streamlined EV has a top speed of just 26 mph (42 km/h) and weighs just 374 lbs (170 kg) without a driver. The airflow-optimized shape has faired-in rear wheels and a drag coefficient of just 0.159; more importantly, though, it has a pretty tiny frontal area (it's only 39.4 inches/1,000 mm tall and 47.2 inches/1,200 mm wide).
When the team from TUM debuted the car in 2022, it featured a pair of 440 W electric motors, but for this record run, muc22 made do with just 400 W—that's 358 times less powerful than the least-powerful EV on sale today, the Mazda MX-30. The muc22 motor is a permanent magnet design, and the car has a gallium nitride inverter rather than the more common silicon carbide inverters we find on production cars.
The record run took place in an empty hangar at Munich Airport, obviating any interference from the weather. The previous record stood at 999 miles (1,609 km), but the team of seven drivers reached that distance after just four days, and since the battery wasn't empty yet, the car kept going.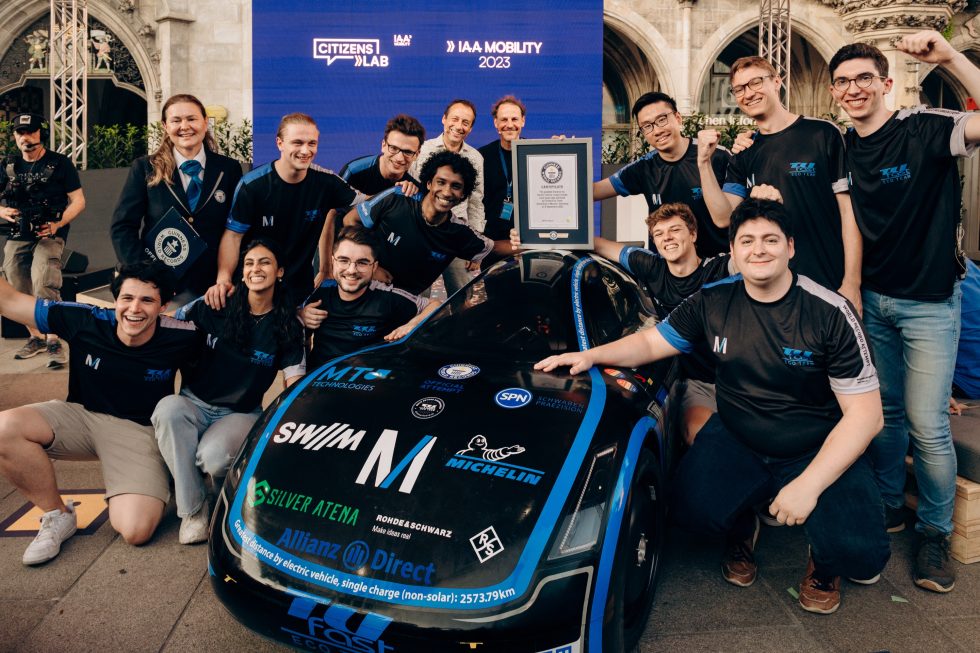 Their eventual distance broke the existing record by 60 percent, achieving a scarcely believable 103.2 miles/kWh, or 0.6 kWh/100 km. For those who think in terms of miles per gallon, it's the equivalent of traveling 3,815 miles on a single gallon of gas.
For context, the most efficient EVs on sale today are the Hyundai Ioniq 6 and Lucid Air, each of which has a version that can achieve 4.2 miles/kWh (24 kWh/100 km).
Expect these numbers to be bettered, and perhaps soon: Next year, Mercedes will launch an electric CLA that uses the powertrain technology demonstrated by the Vision EQXX concept. Last year, that EV drove 747 miles (1,202 km) on a single charge, albeit with a much larger battery and on public roads. Ars got a chance to try out the EQXX on a test track, but perhaps more remarkable was the efficiency of its test mule, which unlike the dramatic EQXX was a boxy B-Class SUV.