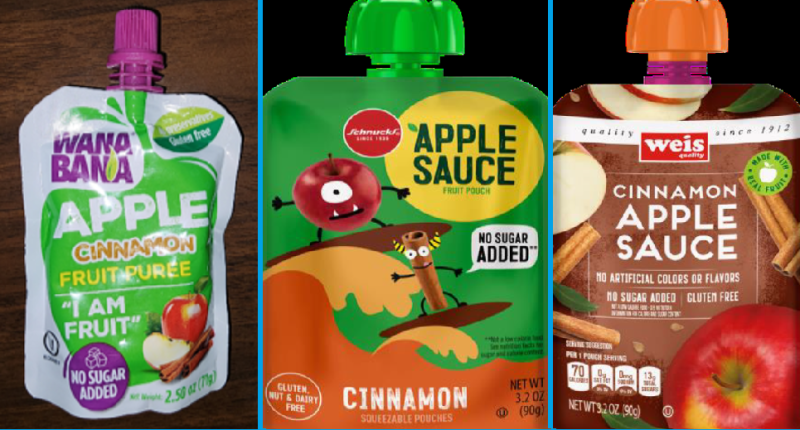 At least 22 toddlers across at least 14 states have suffered acute lead poisoning linked to recalled apple cinnamon fruit puree pouch products found to contain "extremely high levels of lead."
The products contained such high lead levels that some of the poisoned toddlers showed blood lead levels as high as 29 micrograms per deciliter (µg/dL), roughly eightfold above the federal reference level of 3.5 µg/dL to identify children at high exposure.
Given that at least one of the recalled products (WanaBana) was sold nationally and through multiple retailers, including Amazon and Dollar Tree, there are likely more cases in more states.
In a Health Advisory out Monday, the Centers for Disease Control and Prevention advised clinicians and health departments nationwide to be on the lookout for acute lead poisoning. The cases identified so far have reported signs and symptoms, including headache, nausea, vomiting, diarrhea, change in activity level, and anemia.
In addition to WanaBana apple cinnamon fruit puree, the tainted purees include Schnucks brand cinnamon-flavored applesauce pouches—sold at Schnucks and Eatwell Markets grocery stores—and Weis brand cinnamon applesauce pouches—sold at Weis grocery stores. All three have been recalled. Consumers should not buy, sell, serve, or eat any of these products, and they should throw away any that have already been purchased.
The CDC noted that lead toxicity targets the central nervous system. Young children are particularly vulnerable because they are still developing, and they tend to absorb larger fractions of ingested lead than adults do. Even low doses in children are linked to learning, behavioral, and cognitive deficits. Acute poisonings with large doses typically present with anemia, abdominal pain, weakness, and severe neurological conditions—such as seizures, encephalopathy, and coma—which may result in brain damage. Some effects of lead poisoning in children can last into adulthood. Any child whose blood lead level is above 45 µg/dL may require hospital admission and chelation therapy.
Of the 22 cases identified so far, ages spanned 1 to 3 years and blood lead levels ranged from 4 µg/dL to 29 µg/dL. The CDC uses a reference level of 3.5 µg/dL, which corresponds to the 97.5th percentile of blood lead levels in US children ages 1 to 5.
The cases identified so far were in Alabama, Arkansas, Louisiana, Maryland, Missouri, New Mexico, New York, North Carolina, Ohio, Pennsylvania, South Carolina, Tennessee, Texas, and Washington.
Schnucks, maker of one of the recalled purees, said it linked the lead contamination in its product to "the cinnamon raw material" used in its applesauce cinnamon pouches.
In a safety alert update Monday, the Food and Drug Administration noted that as part of its investigation, it has been testing additional puree products and reported that "at this time, sample analyses have not shown elevated levels of lead in any non-recalled products."