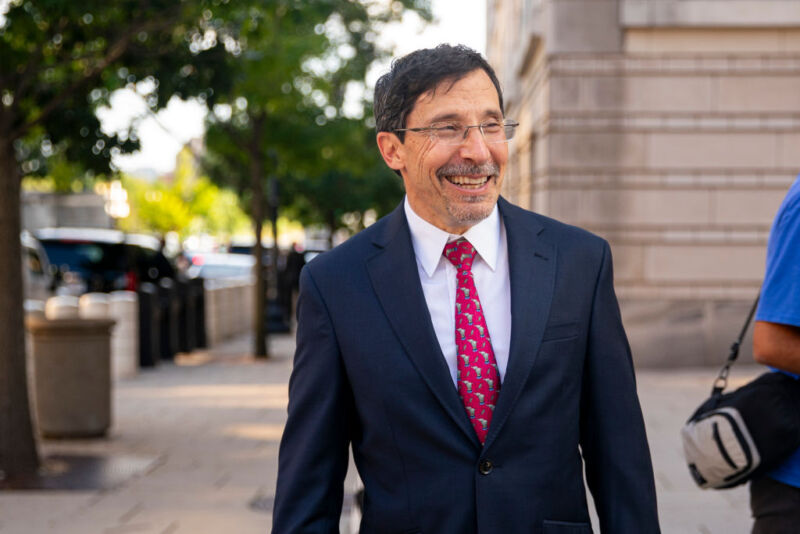 The Department of Justice kicked off its antitrust trial against Google this week by presenting evidence that Google allegedly hid monopolistic behaviors not just by auto-deleting four years of chats, but also by training employees to avoid using certain words in office communications.
DOJ attorney Kenneth Dintzer argued that Google executives knew the company would be scrutinized as a monopoly and since at least 2003 have circulated "unambiguous instructions on phrases" employees should "avoid" to ensure that the company doesn't "come across like monopolists," Bloomberg reported.
"We should be careful about what we say in both public and private," Google's chief economist, Hal Varian, wrote in a July 2003 memo.
That memo and others from 2009 and 2011, the DOJ argued, made it clear that Google knew it needed "to be sensitive about antitrust considerations" and allegedly worked to hide any sketchy-sounding activity that could trigger antitrust scrutiny.
Among words and phrases that Google employees were trained to avoid were "market share," "scale," "network effects," "leverage," "lock up," "lock in," "bundle," and "tie."
"We don't 'lock up' or 'lock in' our customers," and "we do not 'leverage' anything," Google told employees.
During a 2011 training called "Antitrust Basics for Search Team," Google also directed employees to "avoid metaphors involving wars or sports, winning, or losing." At the trial, Varian testified that he couldn't remember ever taking that training.
"I may have had informal communication with lawyers about matters of law of this nature," Varian said. "But I don't specifically recall having a class in this subject."
One particular phrase that documents showed Varian said to avoid was "cutting off their air supply," which Bloomberg pointed out was "a quip used years earlier by then-Microsoft Corp Chief Executive Officer Steve Ballmer, when his company was under federal antitrust scrutiny." The DOJ's pre-trial brief specifically used this phrase to refer to Google's alleged monopolistic behaviors, writing that the DOJ "will demonstrate that Google has maintained its durable monopolies in general search services—and the related advertising markets that fund it—by cutting off the air supply to Google's rivals, denying them access to user data and the scale needed to compete."